We start together, we ride together, we cross the finish line together
.
It's 4 am and Tom Devlin is standing in a dark parking lot in Kelowna waiting to get belled out by Kelowna's mayor that will launch him on a 19 hour journey of brotherhood propelled by determination and two wheels.
Ride 2 Survive To Help In The Fight To Cure Cancer
.
.

.
Ride 2 survive is a long-distance bicycle ride from Kelowna to delta bc spanning 400 km. This ride is 100% volunteer and its goal is to raise funds for cancer research.
This ride is a physical challenge of mammoth proportion, climbing two mountains with a total assent of 3714 meters.
Riders cross the finish line together, with a strong sense of achievement and a bigger purpose knowing they are doing their part in the fight to cure cancer.
We start together, we ride together, we cross the finish line together.
"The ride to survive event is an incredibly challenging physically mentally and emotional ride that's 400 km from Kelona to North Delta British Columbia it is a ride that takes approximately 19 hours and all the money that is raised goes directly to hard to fight cancer's" – Tom Devlin PREC
.
Tom also donated his VIP Client Trailer for the event to deliver supplies to all the riders.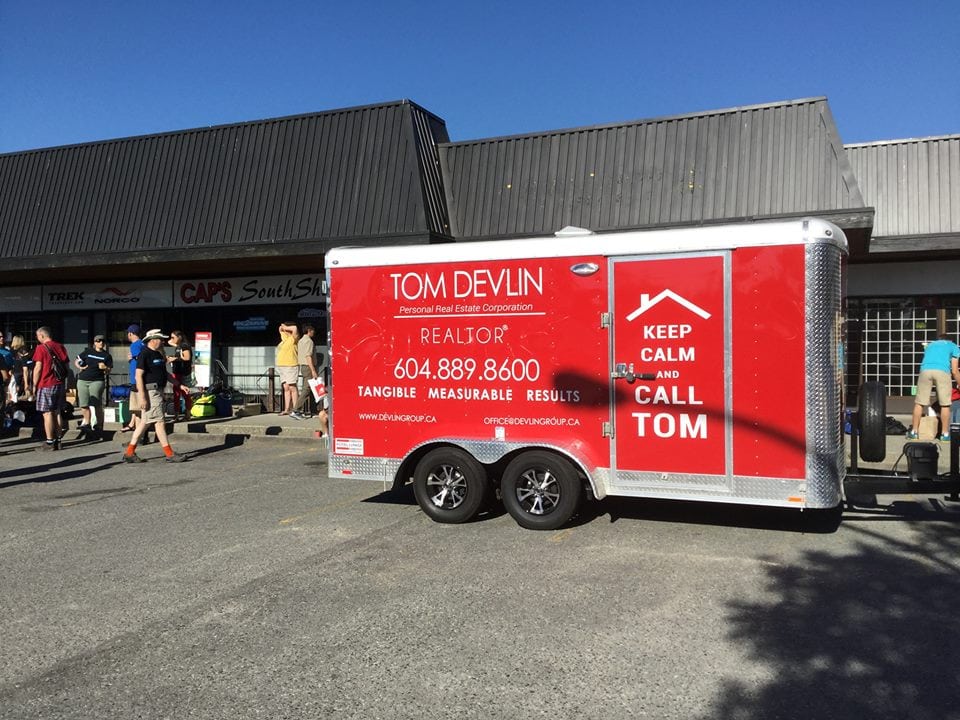 About Tom Devlin
.
Website: keepcalmcalltom.ca
Facebook: facebook.com/TheDevlinGroup
Twitter: twitter.com/thedevlingroup
LinkedIn: linkedin.com/in/TomDevlin1
Tom Devlin is a Professional Realtor® at Royal LePage Wolstencroft Realty based in Langley, British Columbia.
Tom has represented a wide array of real estate transactions; from multi-million dollar listings to condo sales and has built the foundation to a positive real estate deal.
Working with Langley & Surrey residents, Tom has epitomized hard work, integrity, energy and creativity in every deal, putting his clients first.