Come Out and Help Raise Money For First Responders, Firefighters and Volunteers battling the BC Wildfires.
July 23 1pm to 5pm 19925 Willowbrook Drive Langley BC
Michael Miller and The Getty Group have organized a fundraiser to help the first responders, firefighters, and volunteers that are battling the wildfires in BC.
British Columbia remains under a state of emergency with 183 wildfires burning across the province.
The largest fires being in Williams Lake, Ashcroft, 100 Mile House, and Little Fort; and the list is growing.
See Active Wildfire Map: https://apps.gov.bc.ca/pub/dmf-viewer/?siteid=5131184402955244847
The men and women that work on the front lines to fight the fires and assist people in need, are putting in exhausting hours. We want to send them our support by way of much needed supplies like: Bottled water, sports energy drinks, energy bars, etc.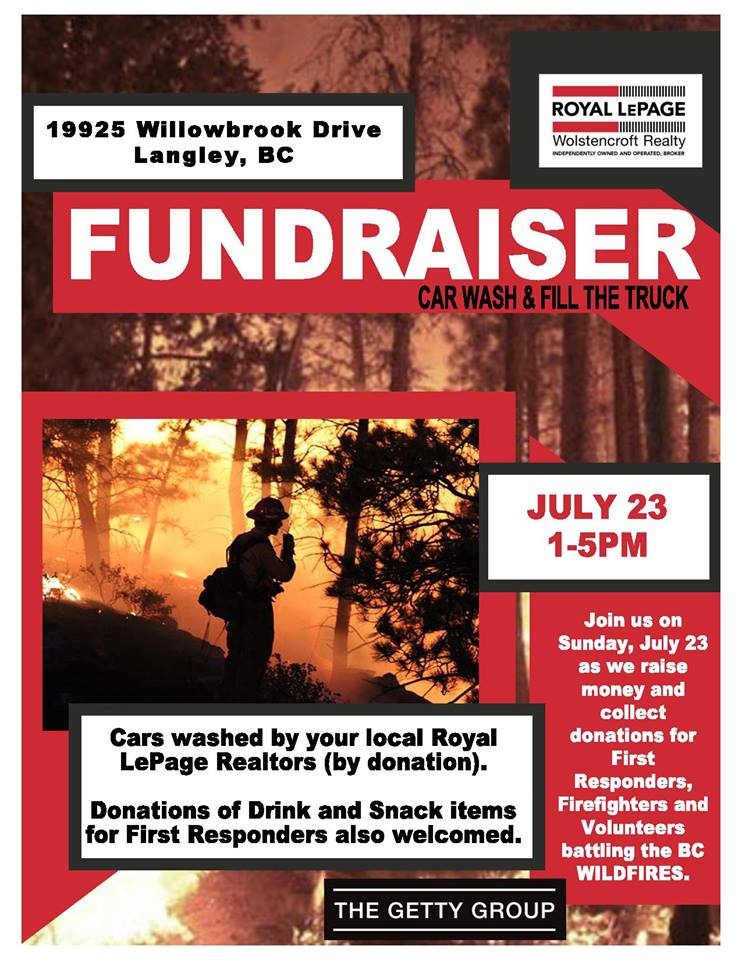 Get Your Car Washed By an Amazing Realtor
Bring your car to the Royal LePage Wolstencroft Realty parking lot from 1pm to 5pm on July 23rd and have one of our amazing Realtors scrub it clean.
We have our most talented car washing Realtors volunteering their time on Sunday to make sure your car sparkles. We also are working on getting a food truck to provide a tasty treat while you wait.
Please let us know if you, or your business, would like to be involved with this great cause.
CLICK HERE FOR DIRECTIONS VIA GOOGLE MAPS

Donations:
Michael has an 8×10 trailer that he would like to fill. He will be driving this trailer up to Prince George on Sunday night or Monday Morning to deliver the supplies.
Please Bring:
Cash (Red Cross)
Bottled water, fruit juice, sports drinks, etc.
Power Bars (Energy Bar), Beef Jerky, etc.
See areas being evacuated or on alert: https://cariboo.maps.arcgis.com/apps/PublicInformation/index.html?appid=3005015ceaf0432eb72cb2d2e8c8e399
Please direct all questions to:
Micheal Miller
Phone: (604) 862-2410
Email: mcmiller@royallepage.ca
Facebook: www.facebook.com/mcmillerrealtor