Spring has officially arrived. The trees are beginning to bloom, the weather is getting warmer, and farms across the Fraser Valley are welcoming baby animals. These family-owned farms are inviting visitors back this year for their annual Easter fun. Spend your holiday weekend meeting the Easter bunny, hunting for eggs, and snuggling with farm animals.
If visiting the farm isn't your style, scroll to down to find a cute DIY door wreath to get your craft on.
Easter Festival & Egg Hunt | Township 7 , Langley
April 17th | $17.95
Enjoy a glass of Township 7's award-winning wine while the kids hunt for Easter eggs. An annual event for Township 7, there will be plenty of fun for kids of all ages.
Visit their website to learn more here.
Baby Animal Easter Days | Maan Farms, Abbotsford
April 15th – 17th | $15.50 for adults $21 for Kids
Maan Farms is a favorite amongst Fraser Valley locals.  With Spring here, the farm welcomes guests to visit, and even snuggle with their baby animals. Kids of all ages are invited to spend their Easter weekend cuddling with baby animals, enjoying their 'Egg-cellent' ice cream, and hunting for the elusive Golden Egg.
Tickets can be purchased online or at the door. Visit their website to learn more here.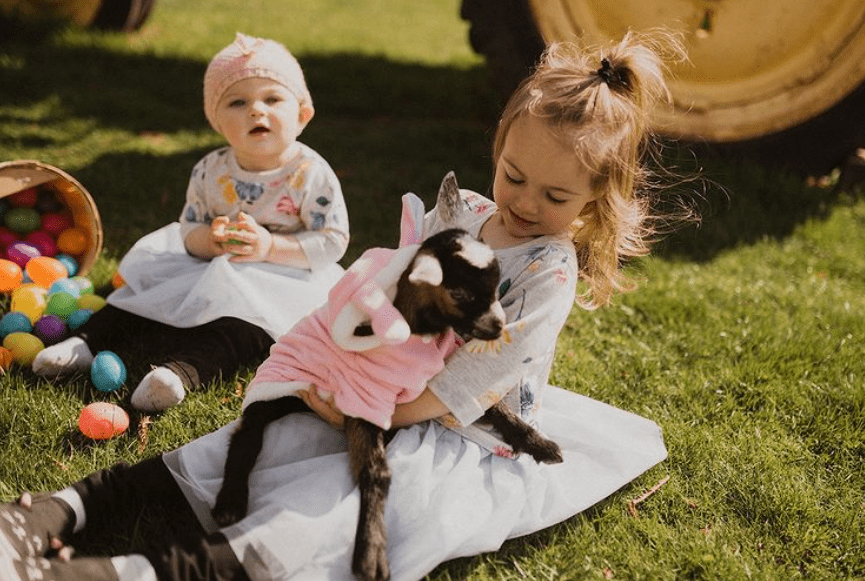 Easterfest | Taves Family Farm, Abbotsford
April 15th – 18th | $17.95
Taves Family Farm, Easterfest returns for 2022. This family-friendly event includes hayrides down to the Bunny Trail to embark on an Easter egg hunt.  The farm also includes plenty of other fun activities for everyone, including peddle karts, a jumping pillow, and of course plenty of farm animals.
Tickets can be purchased online or at the door. Visit their website to learn more here.
Peteys Easter Eggstravaganza | Fantasy Farm, Chilliwack
April 14th – 18th | $6 for adults $12 for Kids
The Fantasy Farm is home to Chilliwack favorites like Peteys Pumpkin Patch, Reapers, and Peteys Christmas Village. However, this time of year, they welcome Spring and the Easter Bunny with a good old-fashioned egg hunt. Families can visit the barn, meet all the baby animals, and a photo opportunity with the big rabbit! A planting station will be set up as well, where kids can plant a flower and watch it grow over the season.
Visit their Facebook page to learn more here.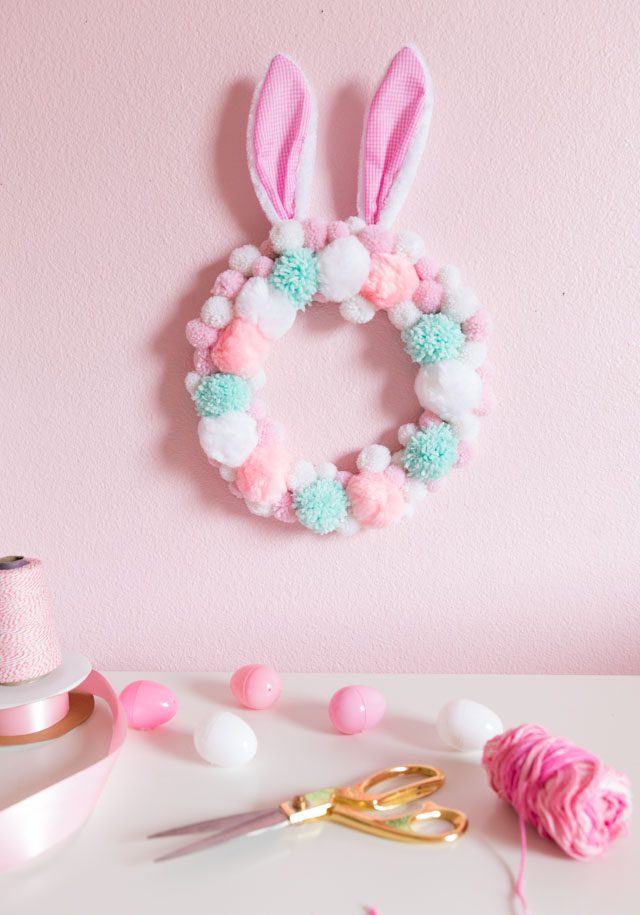 Create a Fluffy Bunny Pom Pom Easter Wreath
We found the cutest DIY Easter wreath to welcome your guests this Spring. Real Creative, Real Organized  shows you how to make your own adorable fluffy wreath.
Supplies
Craft Ring or Wreath Form
White Pom Poms (various sizes and colors if preferred)
Hot Glue Gun
Ribbon
White Felt
Pink Felt
Bunny Ear Headband
Step 1: Glue pom poms to craft ring/wreath form
Cut the bottom of the pom pom flat for better contact to the ring/form. Add glue to the ring/form and add pom pom. Let glue set and dry. Repeat until the ring/form is filled and complete. *If you are using dollar store ears, be sure to glue the headband to the ring/wreath first*
Step 2: Make bunny ears
Cut out a set of ears from the white and pink felt. Glue pieces together. Dollar store bunny ears can also be used.
Step 3: Glue ears to craft ring/wreath form
Take your ears and glue them to the back of the ring/form. Make sure they are attached well, let glue set and dry.
Step 4: Add ribbon
To hang your wreath, glue ribbon to the center of the ring/form at the top.
Step 5: Hang and enjoy!