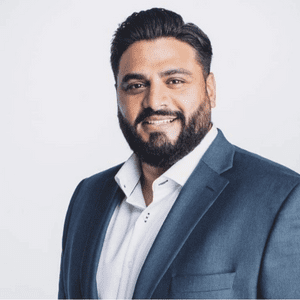 Jas Rai PREC
PREC, Realtor®
About Jas Rai – Personal Real Estate Corporation
After a fulfilling career with the RCMP, Jas decided to hang up his police boots and vest for a pair of oxfords and a blazer. Jas attended UBC to obtain his real estate license and has brought his strong communication skills with him. He is committed to achieving the best possible result for his clients by taking the time to understand both their needs and goals.
As a residential REALTOR®, Jas takes pride in assisting individuals and families in finding the perfect home they can fill with a lifetime of memories. Jas has deep roots in the Lower Mainland, where he has lived his entire life. From growing up in Surrey to playing collegiate hockey while attending SFU in Burnaby, he now raises a young family in Fleetwood. Through his various life experiences, Jas has gained an intimate knowledge of these surrounding communities and beyond.
Jas's previous career in the RCMP has afforded him great attention to detail and the ability to multitask in high-pressure situations. Thus, allowing him to assist you in this ever-changing real estate market. Jas is aware real estate transactions can be life-changing and at times overwhelming. He makes it a priority to create a unique and personalized experience that is effortless and enjoyable. Jas looks forward to assisting you, your family and your friends in finding their dream homes.
Outside the office Jas can be found spending quality time with his wife and son. As a family they enjoy the great outdoors and all it has to offer during the summer and winter months. Jas is an avid hockey player who loves to share the game with his son and strap on the skates to play for his local men's league team.