Ready or not, many of us have been thrust into a new routine of working from home. Of course – home is also a place for rest, relaxation, exercise, cooking, entertaining ourselves, and (for some of us) our kids too! Currently, it's allll happening from home base – and there's a lot going on! In this post, we wanted to share some ideas to help you create a work zone that inspires you to be productive and creative. Whether you already had a home office in place, or have been put to the task of getting set up, here are some helpful hints to consider during this very unique time.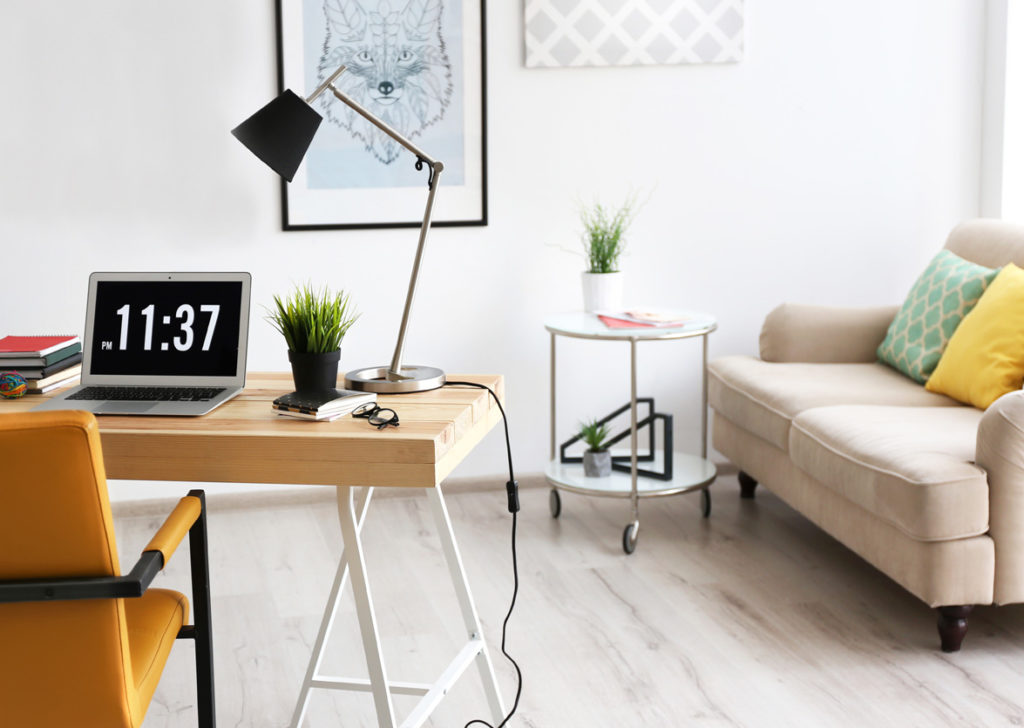 For some of us, it might be useful to think about moving your desk out from the wall to face into your living room or family room. You may find it helpful to look into your living space – whether you need to keep an eye on your kids or simply want to feel more involved with your spouse. This arrangement gives you the flexibility to engage with the room while you work and keep an eye on what's on Netflix. Moving your desk out in this way switches up the stale energy you may be feeling from staring at a wall. Turning the desk signals to your brain that you are in control. This is a new situation, and adapting to it is as simple as moving your desk around! When you're done your work for the day, you can tuck it back toward the wall to regain the space for your room. In this scenario, your work space will be turned away from you as if 'put to bed', so that your monitor no longer beckons you!
---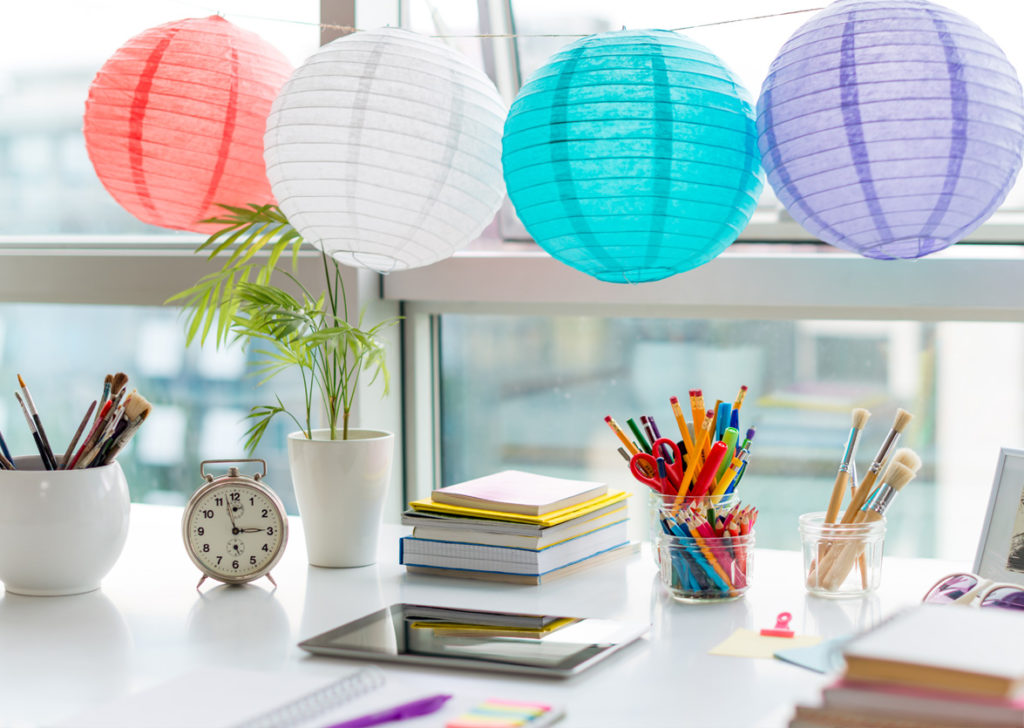 It's party time! Well maybe not, but why not have a little fun in the midst of the current situation? In our home, we've been digging into our party decoration stash to make things festive for the kids. Why not get in on the action? We love the idea of adding these paper lanterns or some brightly coloured balloons to your workspace. Colourful pens and office supplies out on display bring fresh life and perspective to a 'day at the office'.
---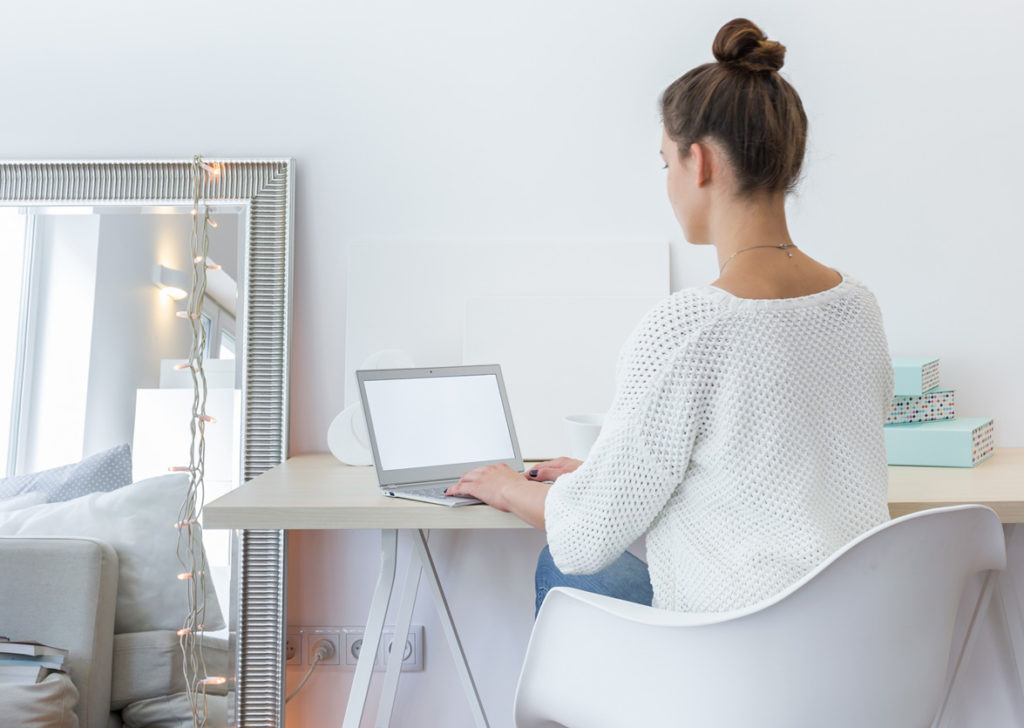 Let there be light! Be sure to set your desk space up in a bright area of your home. If you have a home office but it's in a dark space, you might even consider moving your desk somewhere else for the time being. There are few things as good for the soul, energy and motivation as LIGHT… natural light is best. You may even consider bringing a mirror into your work space to double down by echoing the light from your window. Also, pull out those twinkle lights for a little bit of sparkle. Why not?!
---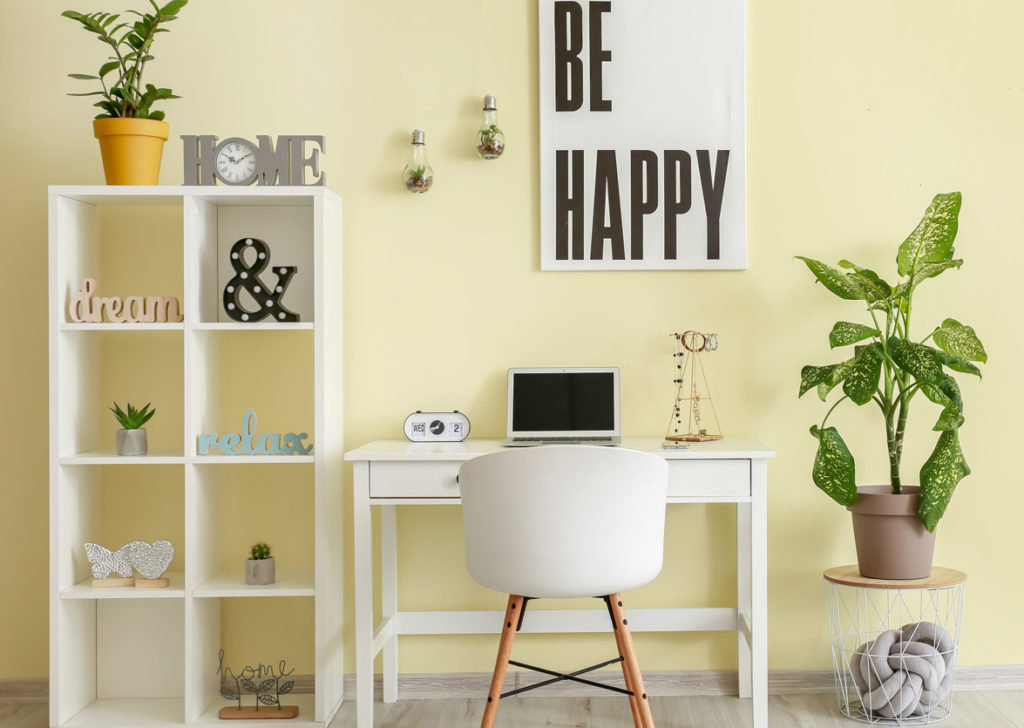 At the moment, things may not be ideal, but there are some things that we can control – staying home and being intentional with the space that we create for ourselves. We love the messaging and overall warmth in this home office. The power of WORDS is undeniable! 'Be Happy', 'Dream', 'Relax'. Fill your space with messages to echo the mindset that you want to maintain – especially now! Looking for an inexpensive hack? Print yourself out quotes in type that you love and use frames that you already have around the house. The yellow in this space is definitely cheerful. 'Shop your home', for items that make you happy and bring them into your office. Maybe you have something fun and yellow to boost your mood, too? Plants also definitely liven things up!
---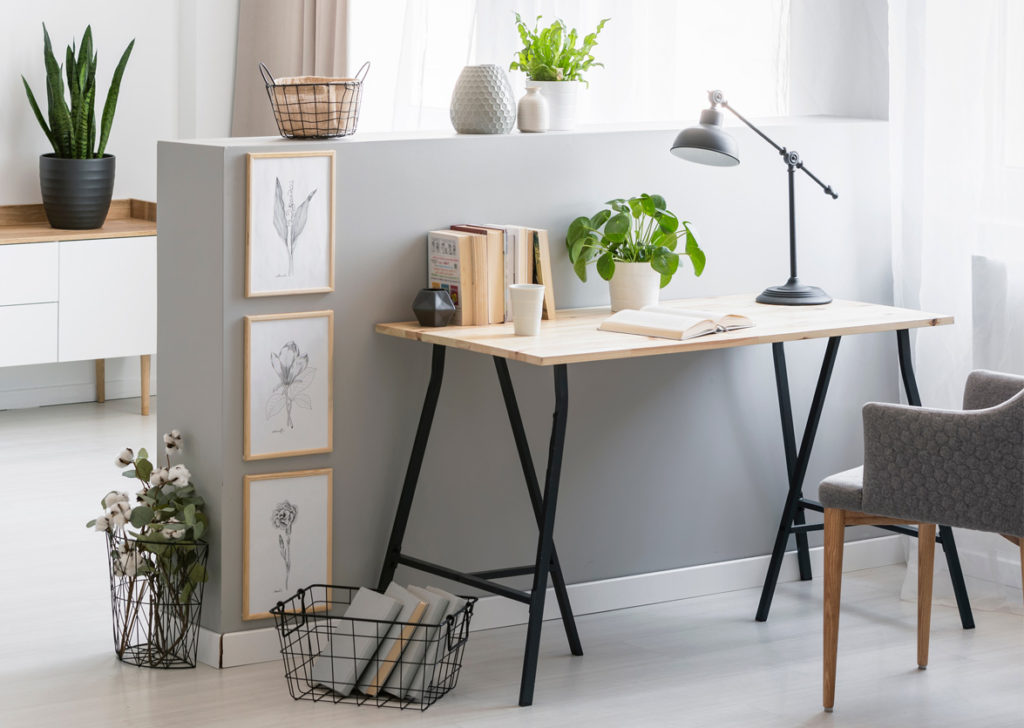 Define your space. Contrary to our first photo – you may find you need space and time to yourself. If you're feeling overwhelmed with juggling work and life, try moving your desk into a tucked away space of its own. Define your boundaries and stay true to them. Put a lamp on your desk and set the rule for others that when the lamp is on, you are in work mode and not to be interrupted. If you've temporarily 'set up shop' somewhere for the time being, you may want to use a basket or decorative box to house the essential books and paperwork you need close at hand. You may also choose to put up some artwork like in this photo to create the illusion of a defined boundary for the space. Get creative with where you hang art – you can always use 3M Command hooks for temporary displays.
---
The overall message we're sending is that when it comes to your temporary work-from-home situation, all rules are out the window. Set yourself up in the space that makes you most energized and surround yourself with the objects that make you happy! From all of us at Royal LePage Wolstencroft, we wish you health and wellness above all. Take care!