Just like that, it's time to say goodbye to summer and welcome another school year. Those late nights and slow mornings, will be replaced with early wake ups, homework, and schedules.
A few tips and tricks to helping you get your family back-school-ready like a boss!
Slowly re-introduce your routine:
Summer is an easy time to let your normal routine and schedule relax. However, like all good things, it must come to an end. A week or two before the beginning of school is a great time to gently nudge and remind the family of their regular routine. Bedtimes are adjusted, wake up calls are earlier, and dinner is at a regular time.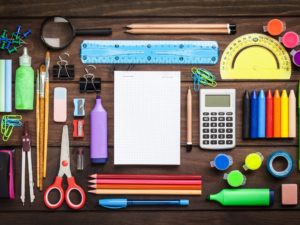 Make school supplies fun!
Who doesn't love a good school supply run. As a kid, and still as an adult, we love a good Staples haul. Hopefully you haven't lost that list from the end of the school year, and hit the stores.
Labels!
Be sure to label everything! Backpacks, lunch kits, water bottles, pencil case – the works. We love going online and finding cute printable labels.
Command center.
A command center is your key to calm and organized school days. A command center is basically a nook where you keep everything your kids needs to get out of the house on time … and where they can dump their stuff at the end of the day.
Communication is key!
 If your school is big on communication, it's easy to drown in a sea of paper-based newsletters, electronic newsletters, forms, permission slips and notifications via the school portal, school app and Facebook page. Place an in-tray for the paper-based forms in your command center, office or kitchen – anywhere you won't forget them – and ensure you add every key date or task you find in these communications to your family calendar as soon as you read them.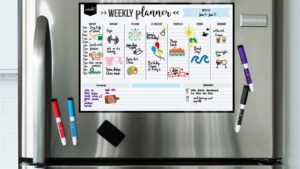 Invest in a family calendar.
 A family calendar will be your BFF throughout the school year. Family calendars help you to keep track of each family member's activities and commitments. You can buy family calendars online and in stationery stores, or you can make your own. Be sure to write the entire school year in your calendar, including school terms, public holidays and pro-d days. This will help you plan ahead for leave or arrange outside of school care.
Attend orientations. 
Whether your child is a new student or not, most schools offer school or classroom orientations and parent / teacher meetings early in the school year. Be sure to attend these to learn what to expect for your kid at school this year.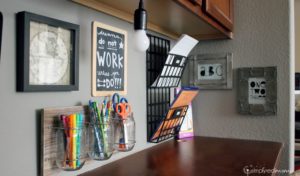 Homework central.
 Get your kid excited about homework with a special homework space just for them. Whether they have a desk, study nook or simply work at the dinner table, make the space inviting with cute and cheerful stationery.
Outside school care.
 Are you calling on grandma and grandad to help with before and after school care or have you booked into the school's after hours care facility? Invest time in planning your routine and who is responsible for dropping off and picking your kids up.
Pack lunch boxes the night before. 
Get into the habit of packing your kid's lunch box the night before. While you're at it, anything you can do the night before, like packing lunch boxes and school bags, do it! You will thank yourself for it the next day.